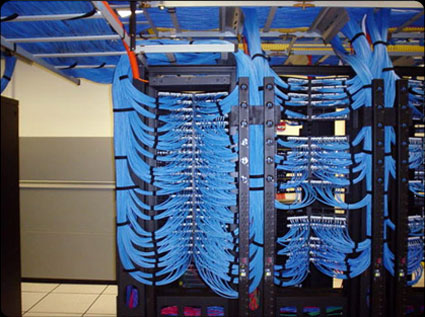 Structured Wiring Solutions
Data and Voice or network and telephone wiring is essential to all businesses, it is important that you choose the right contractor, we can run wires virtually anywhere, whether you are on the pre-construction stage or if you need us to wire all your data and voice cables on an existing building, our structured wiring projects don't end till every jack has been terminated, punched down, trimmed and tested, when needed we also provide certification services.
Read below our aproach on how to know what category cable is and which is appropriate for you, Cat5, Cat5e, Cat6 or Cat6A.
Network Cabling Contractors Organized and Combed
The presentation of our data cabling installation say it all, you will see very organized structure wires in our installation. Our installers make things easy for the IT personnel to understand and troubleshoot their equipment when the wires have been installed by FNC Services.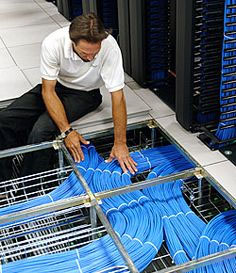 Network Cable
The Story
Telephone/Data network wiring or structured wiring, you probably know it as Cat5e or Cat6 cables but what is the most acurate name for it? Actually it is all of the above and more, let us tell you how these all started. Back in the days in the telephony communications world, we all had a problem, if you were 8 years old or older during the 80's or earlier you might remember how a two way telephone call (this is way before three way calling was available) often got mixed with a third person's conversation, especially in apartment complexes, the reason is that the 25 pair main lines had all 25 pairs of telephone wires running streight paralled to each other and therefore dial tone and voice conversations would jump from one pair to another. That's how the category 3 or Cat3 cable was created, it was discovered that by twisting the wires they nearly eliminated that problem, years later the internet came up but too slow and unriliable till they dicided to add more twists per inch to the wires and that's how Cat5 was created, but as the internet was racing on the speed track, the need for a better cable increased and with better material to insulate more te copper inside Cat5 was enhanced and that word gave the category cable the "e" in that name, Cat5e. Now that you know a portion of the story you can guess what makes Cat6 so muxh better, more twisting and far mor and better insulation, now, can you guess what makes Cat6A a better cable on longer runs? Exactly, you've got it right.
Next Steps…
Get our full attention by contacting us right now.
Some of our customers: